ALLIED TRUST SECURITIES GROUP ("ATS")

INITIAL 1ST STAGE TIIP SERVICES
Pre-Construction Services with either Marsh & McLennan (M&M) and/or Jardine Lloyd Thompson (JLT), Arthur J Gallagher (AJG) - Worldwide Insurance Brokerages, as appointed by ATS
ALL PARTY COVER
Risk Analysis and Insurance Program Design
Review, evaluate and comment on the documents relating to the Project, including Construction and/or EPCC Contract(s), Operation and Maintenance Agreements, Supply and/or Purchase Agreements, Financing and Security Agreements and the like.
Undertake a risk review of the Project; identify the major exposures and how they can be mitigated by insurance, where possible. In particular:
Physical damage risks;
Delay in start up / business interruption risks - extent of cover and level of transfer provided for both damage and non-damage risks, incorporating reviews of the take or pay requirements under any supply or purchase agreements;
Workmen's Compensation and/or Common Law Employer's Liability exposures;
Liability risks;
Environmental risks;
Force majeure and / or non-damage delay risks;
Commissioning risks;
Latent defects and professional indemnity risks.
Review of insurance availability and cost against risk profile and client's risk appetite.
Design insurance programme and recommend to client for their review and approval.
Insurance budgeting/tender pricing.
Review of insurance related contractual provisions and assist in drafting or re-drafting such contractual provisions.
Drafting of insurance policy wording.
If Technical Risk Management services are required, the detailed scope/extent of services can be discussed and remuneration mutually agreed. Such Technical Risk Management services will involve:
Ensuring the correct relationship between risk allocation and the insurance program.
Researching and understanding the risks associated with the contractual agreements before making risk management and insurance recommendations.
Providing advice how Contract Conditions can be drawn up to address risk management issues and insurance responsibilities.
Examining the critical inter-relationship between the construction and the operation periods to review what is insurable.
Advice on who should arrange insurance.
Advice on limitations to insurance cover.
Assisting in determining the value for money balance between insurance and risk retention.
Insurance Programmed Placement
Preparation of comprehensive underwriting submission to the insurance markets.
Identification of the insurance markets with appropriate risk appetite to suit the profile of risk to be placed to ensure market support for the placement as well as to ensure the client obtains the best possible terms. In the case of non or limited recourse financed projects, the financiers may stipulate that certain minimum security ratings which insurers are required to meet. In such an instance, JLT/MM/AJG would ensure that the panel of insurers would comply with the minimum ratings stipulated by the financiers.
Marketing the risk to the insurance markets both on a retail and on a wholesale reinsurance basis.
Negotiating and finalising terms with the insurance markets.
Services during Construction / Policy Period
Administration of insurance program
Acting as conduit for payment of insurance premiums and ensuring that payment is made to each insurer/reinsurer in accordance with their share of the risk
Facilitating the issuance of cover notes and subsequently the issuance of insurance policies in accordance with wording as agreed with the insurers/reinsurers.
Negotiating and facilitating changes/extensions to policy coverage as may be required from time to time. If the changes/extensions are significant and involve additional premiums, JLT/MM/AJG will negotiate the cost of the additional premiums on behalf of the insured.
Facilitating communications between insured and the insurers. JLT/MM/AJG will act as the conduit to facilitate all communications and ensure that the panel of insurers/reinsurers are kept fully advised of all material changes.
Loss prevention
Arranging with insurers/reinsurers for periodic engineering risk management surveys on site to ensure that prudent loss prevention practices are adopted during construction. Reports are produced after each survey which will summarise the survey findings and make recommendations for improvements in loss prevention practices.
In the case of marine cargo shipments, liaising with appointed marine surveyors to ensure that critical high value/long lead time shipments are surveyed.
Claims handling and management
Appointment of Loss Adjusters – in consultation with the lead insurer or reinsurer, JLT/MM/AJG will arrange for the appointment of Loss Adjusters who are experienced in particular classes of insurance or the nature of construction encountered on the project.
Preparation of detailed claims handling procedures which provide detailed instructions on the correct procedures to be followed to ensure that insurers are promptly notified of claims.
Seminars for project team – JLT/MM/AJG will conduct seminars for the entire project team, including on-site briefings, to ensure that all of the project participants are familiar with the claims handling procedures and are aware of the primary contact points within the insurance team for the notification of claims.
Regular summaries of claims – in conjunction with the Loss Adjusters, JLT/MM/AJG will arrange for regular summaries of claims to be prepared so that the status of claims resolution can be monitored.
Primary point of contact – aside from the Loss Adjusters, JLT/MM/AJG will act as one of the alternative primary points of contact for the notification of claims.
Payment of claims – JLT/MM/AJG will be the conduit through which claims are paid, particularly if the insurance programme is a large one involving multiple insurers and reinsurers. If there are Loss Payee provisions in the insurance policy, JLT/MM/AJG will ensure that claims proceeds are paid in accordance with such provisions.
Definition's
Delay in Start Up Insurance (DSU): DSU indemnifies the Insured parties in respect of loss suffered as a result of delay in the commencement of the Project caused by physical loss and/or damage to the permanent and/or temporary works covered under the CAR/EAR or Marine Cargo policy. Insured Parties to a DSU policy are Employer/Principal and Financiers. A DSU policy does not indemnify Contractors.  (Also known as Advance Business Interruption (ABI), Advance Loss of Profit (ALoP)
Environmental Impairment Liability (EIL): EIL insurance provides cover for companies exposed to 'clean up' costs following a pollution incident. Cover can include:
Sudden and accidental and gradual pollution
Third Party Liability including depreciation in property value
Legal costs and expenses
Professional Indemnity (PI): Professional Indemnity insurance provides cover for claims made against the insured, during the period of insurance, as a consequence of negligent acts, errors or omissions in the performance of professional activities. Cover can be purchased on an annual basis or for single projects.
Single Project Professional Indemnity (SPPI): This provides indemnity for all the contractors and consultants of any tier for any negligent act error or omission for a specific single project. These can have a policy period of up to 10 years, and are usually on large complex projects
Contractors Plant and Equipment (CPE): CPE insurance is an 'all risks' policy that covers the contractor's own plant and equipment at site or in transit. Cover can also be purchased for legal liability for hired-in equipment where the insured may be liable to pay for loss or damage caused to hired in plant and equipment and the cost of continuing hire charges.
Workers Compensations (WC): This type of policy covers the insured (the employer) against claims made against them by employees injured during the course of work. Cover can usually be purchased to provide wage replacement and medical benefits. In many countries globally, Worker's compensation is a compulsory insurance cover, with levels of cover varying depending on the jurisdiction of the Country.
Marine Cargo: Indemnifies the Insured for damage or loss to equipment for your project whilst be transported by water. Inland transit is usually covered within a CAR/EAR policy.
Marine DSU: indemnifies the Insured party in respect to the financial loss suffered due to the damage or loss of equipment during transit by water
Archaeological Finds: this indemnifies the insured for delay as a result of an archaeological find at their construction site.
Latent Defects: It is also known as Inherent Defects Insurance (IDI) and originates from the French Decennial Product.
Decennial: In France this provides cover for the strict liability arising from the French Civil Code for any defects that arise in a building in the 10 year period after completion. This cover is common in France and French Africa and some Middle Eastern Countries such as Egypt and Qatar.
Defective Land Title: This provides cover should the title on the land you are building on or have acquired by defective and you need to defend your purchase.
Terrorism/Political Violence (PV): Response to a loss in the event of a terrorist act damaging your property/project.
Political Risk Covers for Construction (PRI): Where you are working in a foreign country you can protect your physical assets, investment and people. PRI lines of cover purchased on foreign construction projects can include:
Unfair calling of bonds
Confiscation and nationalisation of assets
Contract Frustration
Surety: They are a not an insurance product, and have full recourse. The surety market can provide bid bonds and performance bonds on rated paper, and do not tie up your credit lines in the manner that a bond issued by a bank does.
Subcontractor Default Insurance (SDI): This provides indemnity due to a default of a subcontractor or sub consultant in your contractual chain (including insolvency). This is a non-recourse product and is an alternative to requiring your subcontractors to provide you with a performance bond. See our paper on SDI.
PFI/PPP/P3: Private Project Finance Insurance, Public Private Partnership contracts, are a procurement model used globally to deliver, maintain and finance social infrastructure projects within a Country. A PFI insurance policy provides CAR and DSU cover for Projects carried out using this procurement model. An SPV (Special Purpose Vehicle) or Project Company (Project Co) will be required to purchase an insurance policy in order to secure financing from Lenders. The PFI/PPP model is known as P3 throughout North and South America
"ATS will arrange to have JLT/MM/AJG tailor-make the TIIP to suit the specific needs of the Project/Venture in ALL RESPECTS".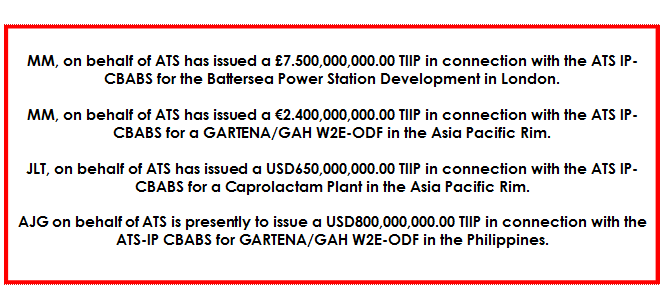 STRATEGIC PARTNERS:
Jardine Lloyd Thompson, Marsh & McLennan and Arthur J Gallagher & Co International Insurance Brokerages.
Advanced Capital Solutions Ltd an FCA Company in the City of London.
Please check out:-